AmCham Chairman: Viet Nam good at maintaining supply chain
Viet Nam has done a very good job on maintaining the supply chain during these incredibly hard over the last few months of 2022, Chairman of the American Chamber of Commerce in Viet Nam (AmCham Viet Nam) John Rockhold said in a recent interview with the VGP.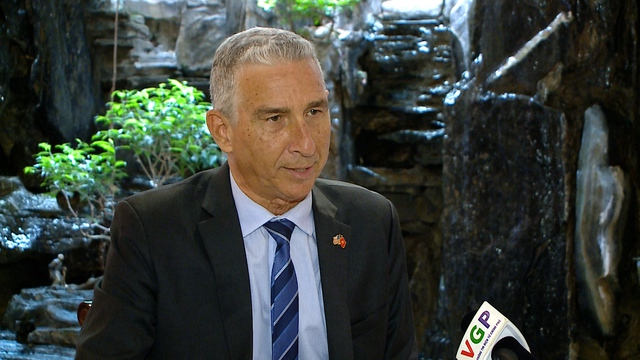 Chairman of the American Chamber of Commerce in Viet Nam (AmCham Viet Nam) John Rockhold
In future growth, as all countries are competing for supply chains, a fair, transparent and predictable regulatory environment that values innovation is the best avenue not only to attract new investment, but also to maintain and grow the investment already here, said John Rockhold.
The U.S. enterprises are very satisfied with the Vietnamese Government's measures in coping with COVID-19 situations, curbing inflation and moving forward when a lot of countries are facing problems in this situation, he noted.
As one of the world's most populous countries, Viet Nam achievements over the recent months have been highly appraised, for economic recovery, quality of life, and credit ratings including the likes of State-owned enterprises such as the Viet Nam Electricity (EVN).
AmCham and its member companies are optimistic about the future in Viet Nam, reiterated the AmCham Chairman.
He expressed his belief that substantive progress on the issues raised above will enable a sound and resilient recovery and support Viet Nam's aspirations to propel itself to the next sphere of economic competitiveness.
The U.S. enterprises place great importance on engagement with the Government, he said, expecting that robust dialogue between the Government and the private sector helps address challenges and leads to optimal public policy outcomes for Viet Nam's economy in this new normal.
Long-term approach to decarbonizing economy
To ensure its position in the pantheon of economically developed nations, Viet Nam needs to make energy security as its number one priority because no country has been able to embrace economic development without guaranteed access to affordable energy, suggested the AmCham Chairman.
While this does not mean a continued reliance on fossil fuels and a reneging on its bold commitment to decarbonization its economy, it does mean that Viet Nam will need to pursue a path that allows it to meet its commitment to its citizens.
"An energy mix with net zero as the central goal, designed to grow the economy and drive industrial growth and leverage existing skill sets. A mix that enables utilities to operate the system most effectively, allowing a place for all technologies while driving down emissions–that is the goal", he recommended.
Viet Nam cannot and should not be held to Western standards of decarbonization, especially when westerns nations are the largest per capita emitter of carbon. Instead, the nation should cooperate with ASEAN countries in sustainable energy technology developments.
Viet Nam has an obligation to invest in decarbonizing its economic growth and preparing its country, its economy, and its populace for the impending impact of climate change.
This will not happen overnight, and any international partner wishing to engage and support Viet Nam in achieving a decarbonized future need to adopt a long-term view that is based upon the very real constraints of its present situation.
"Viet Nam is in the unique, and advantageous position to adopt a long-term approach to decarbonizing its economy, while addressing the very real challenges that it is facing as a country", he underscored.
In the upcoming time, AmCham enterprises in Viet Nam plan to support the Government in realizing COP26 commitments with participation in a Made in Viet Nam Energy Plan 3.0 (MVEP3) and recommendation on de-risking the draft Power Development Planning VIII (PDP8) and bankability.
Such a PDP8 will bring in the estimated US$130 billion needed by Viet Nam to reach its net-zero emission by 2050 and build a strong Vietnamese private sector of investors, developers, and operators and the Vietnamese banking sector.
Especially, the U.S. enterprises target to Vietnamese businesses and banking institutions obtaining funds and meeting international due diligence together with foreign direct investment (FDI) to bring the tens of billions needed each year for reaching carbon emission neutrality by 2050.
Viet Nam needs to ensure enabling regulatory environment
To foster production and maintain economic growth, John Rockhold said that, greater transparency and predictability in Viet Nam's tax system would strengthen Viet Nam's investment climate, particularly avoidance of retroactive rulings and assessments.
The need for Advance Price Agreements is important as supply chain inputs can cross multiple borders, he said, adding that this is a concept that Viet Nam has embraced theoretically but needs to be implements and provinces made aware of how to use it.
AmCham encourages Viet Nam to seek the conclusion and mutual ratification of a bilateral tax treaty with the U.S. and to avoid double taxation of American citizens and investments in the interim.
Meanwhile, the Southeast Asian nation should continue more quickly to adopt the Generally Accepted Accounting Principles (GAAP) so that domestic and foreign companies do not need to maintain two sets of books in order to do business with each other.
In today's world, digital transformation significantly reduces costs, provides products and services to a broader range of consumers and businesses, and increases access to newer and bigger markets.
Viet Nam has already experienced strong growth in e-commerce, fintech, edtech, and the creative economy.
To reach its full potential, Viet Nam needs to ensure an enabling regulatory environment that is consistent with international practices as good, services, and data increasingly need to cross borders with high security, suggested John Rockhold.
Doing so will unlock truly sustainable economic growth in the form of high-paying white-collar jobs, technology and skills transfer, high-quality foreign direct investment, and increased international competitiveness./
source: https://en.baochinhphu.vn/
More Articles