Labor ministry puts forwards proposal on increasing minimum monthly wages from July
The Ministry of Labor, Invalids, and Social Affairs (MOLISA) has recently submitted a proposal to the Government to increase minimum monthly wage by 6 percent from July 1.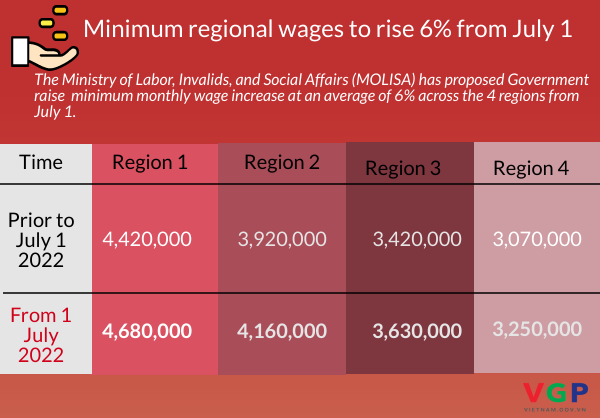 Specifically, the minimum monthly wages in Region 1, 2, 3 and 4 will increase by VND180,000, VND210,000, VND240,000 and VND260,000 to 4,680,000 (US$ 203), VND 4,160,000, VND 4,160,000 and VND 3,250,000.
In addition, the ministry also suggested a minimum hourly wage increase of VND 22,500 per hour in Region 1, VND 20,000 per hour in Region 2, VND 17,500 per hour in Region 3, and VND 15,600 in Region 4. The 6 percent rise would partly meet the demand of workers. Although this is a small increase, it can harmonize the expectations of both employers and employees, the ministry explained.
Earlier on April 12, the National Wage Council approved raising the minimum regional wages by 6 percent, or VND180,000-260,000 per month, from July 1.
This is lower compared to 7-8 increase or VND215,000-354,000 per month put foward by the Vietnam General Federation of Labor.
Since 2020, the Government has maintained the minimum monthly wages in 2019 due to COVID-19 pandemic. The minimum regional wages were most recently revised on January 1, 2020. Specifically, the minimum wages in Regions 1, 2, 3 and 4 increased to VND4.42 million, VND3.92 million, VND3.42 million and VND3.07 million, respectively./.
source: www.chinhphu.vn
More Articles