AHK Chief Representative optimistic about Viet Nam's economic growth for 2022 and beyond
Marko Walde, Chief Representative of the Delegation of German Industry and Commerce in Viet Nam (AHK Viet Nam) is optimistic that Viet Nam's economic growth will continue to be successful for the next two to three years, at least from a proper and sustainable mid-term perspective.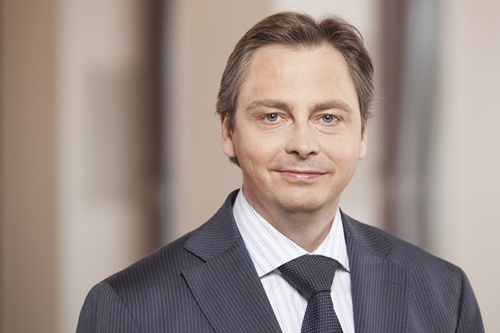 Marko Walde, Chief Representative of the Delegation of German Industry and Commerce in Viet Nam (AHK Viet Nam)
In his recent interview with the VGP, Marko Walde said that, the progress and the success of the Vietnamese economy, also in 2022, is really amazing.
All the achievements are well recognized by the international communities and organizations, and especially, and this is the most important thing, also by international companies operating here in Viet Nam.
Looking at the ranking of international organizations, it is clearly to see a constantly increasing growth rate of Viet Nam, especially when compared to other countries worldwide, in Asia, or even in Southeast Asia.
Viet Nam has a really good position regarding various Free Trade Agreements. The country is a part of the ASEAN Economic Community which consists of ten countries. Four out of these ten countries are member states of the Comprehensive and Progressive Trans-Pacific Partnership (CPTPP).
Moreover, just two countries, Singapore and Viet Nam, have negotiated and signed the Free Trade Agreements with the European Union.
So, the economical movement, the trend right now in Asia, is that international companies, from Japan, the Republic of Korea, and even Germany, are following the China+1 strategy. They are looking for a second investment location outside of China, but still inside Asia. Here, Viet Nam is in a really good position to take that role.
Considering all the challenges at the beginning, such as the fight against COVID-19, the Vietnamese Government tried to find a good balance between the health protection of the people and the effort to continue with the economic growth and did it really successful.
Marko Walde spoke highly of the effort of the State Bank of Viet Nam together with the Ministry of Finance to keep the inflation under control. When comparing the inflation rate to other countries, even with Germany, it's really impressive to see how the fiscal policies work to ease inflationary pressure.
In addition, the nation has to face global challenges like increasing prices for raw materials and for the logistics sector and those challenges are managed and handled very well so far.
The nation should be aware of the possible challenges, dangers and risks of supply chain interruptions. Of course, the worldwide development may face other challenges such as conflicts, possible trade wars, and political instability.
The AHK Chief Representative recommended Viet Nam have an eye on it, to supervise and observe this development, as well as have a possibility for a fast intervention in case it's needed.
But overall, he is optimistic that the economic growth is on-going, and Viet Nam will see a very successful development in the future.
Viet Nam needs to develop green energy sources, skilled workforce
Regarding recommendations for Viet Nam to boost economic growth in the upcoming times, Marko Walde said that international companies as well as German companies are searching for an investment location, especially for their production and asking for a more sustainable and green energy source.
Sustainable energy is a global movement, he said, suggesting the local companies work with the Vietnamese Government to strengthen and develop a green energy plan, green energy sources, and green energy alternatives here in Viet Nam.
Topics like solar, wind and offshore wind are really important. Furthermore, they will guarantee further international investments in the country.
The second recommendation would be to make Vietnamese companies strong, noted Marko Walde, adding that most of the international investors, especially those from Germany, are asking for local partners in Viet Nam.
It is possible to have 100 percent of the raw material imported for production in the country, but most companies would prefer to have local suppliers here in Viet Nam, local cooperation partners close to the investment locations, sourcing partners, and other service partners.
International companies in Viet Nam, especially from Germany, are interested in cooperating with Vietnamese companies nearby. Because of that, the nation needs companies with a similar standard, with a certain understanding, and with professional management.
The Government should make Vietnamese companies strong and make them able to become potential cooperation partners for international investors, he noted.
Lastly, every company needs a skilled workforce so having a proper vocational training system could also be crucial for further economic development in Viet Nam, emphasized the AHK Viet Nam Chief Representative.
The AHK Viet Nam has launched a Dual Vocational Training program according to the German standard since 2013. The program and its practices are oriented towards the demands of the companies.
At first, 25 people participated in the program. Until last year, the figure increased to more than 400 apprentices in 9 professions.
Furthermore, German enterprises will also have to welcome higher standards coming from Western Europe or North America, including the ESG or Supply Chain Due Diligent Act.
Therefore, foreign companies in Viet Nam must follow further legal standards, said Marko Walde, adding that AHK Viet Nam is ready to provide proper information to foreign as well as Vietnamese companies.
"It is crucial to set a certain consultancy service for both Vietnamese and German companies so that they can continue with the cooperation. We even need to set new standards, as we need to follow a new legal rule", he stated./.
source: https://en.baochinhphu.vn/
More Articles