UNDP Resident Representative: Viet Nam's economic growth to accelerate this year
United Nations Resident Coordinator a.i. in Viet Nam, UNDP Resident Representative for Viet Nam Caitlin Wiesen expressed her belief that Viet Nam's economic growth will accelerate this year as tourism, transport and other services are opened.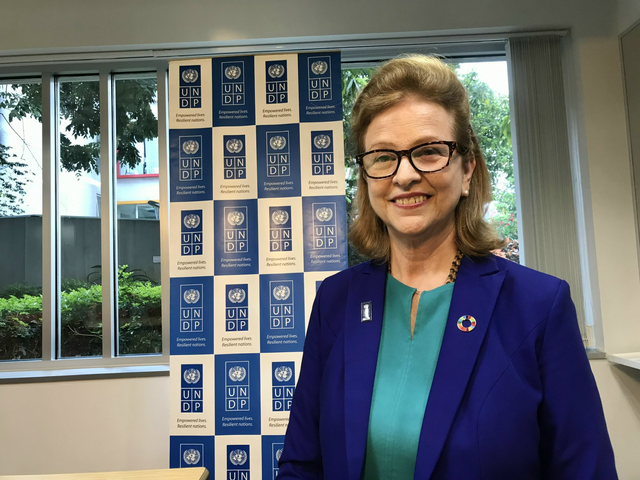 United Nations Resident Coordinator a.i. in Viet Nam, UNDP Resident Representative for Viet Nam Caitlin Wiesen
In her recent interview with the VGP, Caitlin Wiesen commended the Government of Viet Nam for their extraordinary vaccine program that has been rolled out in a very equitable way and by placing people's health at first and foremost. It has enabled the Government and the economy to open up.
All COVID-19 indicators are trending downwards, case numbers, hospitalization and deaths and at the same time restrictions for schooling and business are being lifted. These are promising signs for Viet Nam and its economic recovery.
The World Bank (WB) has downgraded its estimates for Viet Nam's economic growth in 2022 as it has done with other countries around the world because of the influence of so many crises. However, Viet Nam is well placed and its economic growth will certainly continue and reach the same level as the country would have wished, noted Caitlin Wiesen.
Regarding challenges for Viet Nam in 2022, she said that COVID-19 has challenged livelihoods, and exacerbated inequalities in Viet Nam. In addition, the nation has to cope with climate crisis, rising fuel prices, supply chain disruption due to prolonged lockdowns, and the knock on effects of the conflict in Ukraine.
In response, Viet Nam's recovery needs to generate economic growth, green growth and inclusive growth. The economic rebound needs to achieve the dual objectives of stimulating economic growth and supporting vulnerable households, who were the worst affected by the pandemic.
There is an important role for the Government to play in leading an environmentally sustainable growth, and deepening the capabilities of the domestic sector.
For green growth, Caitlin Wiesen recommended the Government increase investment in a Just Energy Transition and more climate mitigation and adaptation activities.
For inclusive growth, she suggested launching a comprehensive approach to improve allocation of financial resources based on socio-economic outcomes, and increasing the supply of domestic finance.
The Government therefore plays an important role in ensuring that growth is sustainable beyond this year. This will include increasing supply of long term finance, facilitating growth among domestic firms through technology upgrade and public investment and increasing climate finance, among others.
It is not possible to go back to "normal" or "new normal". Instead, it is essential to look at a new form of growth right in this context, highlighted Caitlin Wiesen, adding that given the climate threats and COVID-19 still looming, Viet Nam needs to plan and increase its resilience for future shocks, both human and natural shocks.
The Government needs to set the objective of post-COVID-19 recovery along the achievement of the socio-economic development plan and achievement of the Sustainable Development Goals (SDGs).
To meet the objective of achieving high-income status by 2045, Viet Nam needs to invest a much larger share of national output into building national competitiveness, increasing value-added in domestic industries, and upgrading technological and innovation capabilities.
UNDP vows to support Viet Nam in achieving sustainable development, climate goals
To support the development of strong domestic productive capabilities in Viet Nam, the UNDP is conducting research with the Ministry of Planning and Investment on linking public investment to development outcomes, strengthening the domestic capital market and restructuring national development banks.
In this sector, the UNDP hopes to support policy recommendations in these areas, as well as in building capabilities of domestic firms for better integration into the global value chains.
To support Viet Nam's commitment in reaching net zero emissions by 2050, the UNDP signed a commitment letter with other development partners to Prime Minister Pham Minh Chinh on December 2. In the letter, the UNDP and other partners reaffirmed commitment to Viet Nam and the country's efforts to achieve the new climate targets.
The UNDP is ready to work collectively with the like-minded donor group on the nationally determined contributions (NDC) to support the Government to mobilize international resources, including a combination of increased public and private investment, drawing on ODA and concessional loans to reduce costs to Viet Nam, and providing needed expertise, knowledge, and technology to accelerate the green transition and improving the regulatory environment for a Just Energy Transition.
Besides, the Ministry of Natural Resources and Environment will receive support from the UNDP to revise the National Climate Change Strategy to align with the Net Zero Carbon Emission Target by 2050.
As Viet Nam is one of the most vulnerable countries to climate change in the region, the Government will need to increase investment in climate change adaptation measures. The UNDP is working closely across key ministries to map out the necessary interventions in each sector and region and to mobilize the most up-to-date and reliable scientific information on current and forecasted impacts of climate change.
In addition, the UNDP is deepening partnership with the Government to protect vulnerable groups from the impacts of climate change with integrated storm and flood resilient programs in coastal provinces, water management in the central highlands and environmental governance in the Mekong region, to ensure that no one is left behind in the process of adapting to climate change.
Caitlin Wiesen expressed her wish to closely with the Government and development partners to accelerate actions for achieving the ambitious climate goals that are vital to a green, inclusive and prosperous Viet Nam.
source: https://en.baochinhphu.vn/
More Articles