RoK's President attends groundbreaking ceremony of V-KIST
The Republic of Korea (RoK)'s President Moon Jae-in expected that the Viet Nam-Korea Institute of Science and Technology (VKIST) will create a force for Viet Nam to realize its industrialization goal and make contributions to developing ASEAN-RoK community in the upcoming time.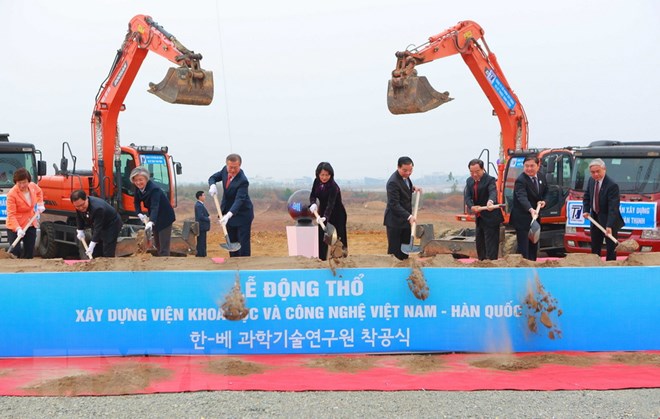 President Moon Jae-in attends the groundbreaking ceremony of the V-KIST at Hoa Lac Hi-tech Park, Ha Noi, March 22, 2018 - Photo: VNA
President Moon Jae-in and FM Kang Kyung-wha on March 22 attended the groundbreaking ceremony of the V-KIST at Hoa Lac Hi-tech Park in Ha Noi under the witness of Vietnamese Vice President Dang Thi Ngoc Thinh and Minister of Science and Technology Chu Ngoc Anh.
The President supposed that the ceremony is a crucial mark in supporting science and technology in Viet Nam as well as the close relationship between the two nations in all fields.
V-KIST is the symbol of determination and wishes for the two nations' people and Governments, which facilitates talents to join hands with businesses to boost cooperation between the two sides, he asserted.
Vice President Dang Thi Ngoc Thinh hoped that the V-KIST will pay an important role in providing scientific measures for businesses, serving the development of industries and sustainable development and nourishing Viet Nam's talents.
Hailing the meaning of the ceremony in the context of the 25th founding anniversary of diplomatic ties, she asked the two sides to enhance cooperation to ensure the rate of progress of the project.
The V-KIST will come into operation by 2020, said President of the Korea International Cooperation Agency (KOICA) Lee Mi-kyung.
In the first phase, the center will complete its infrastructure development to serve research and operate training resource system. Research activities will be launched since early 2018 to meet urgent demands of some industries including information technology and biological industry.
In the next five years, the V-KIST sets the goals to supply advanced technology for businesses and cooperate in research with global partners.
The V-KIST was proposed by the Vietnamese PM and the RoK's President in 2012.
source: chinhphu.vn
More Articles