Opportunities for Korean businesses in Hòa Lạc Hi-tech Park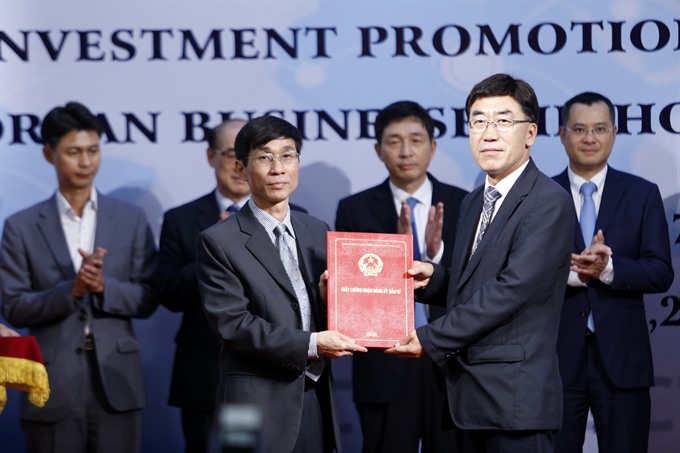 Nguyễn Trung Quỳnh (left), vice chairman of Hòa Lạc Hi-tech Park management board is giving investment registration certificate for DT&C's representative
HÀ NỘI — A conference promoting investment for Korean businesses in Hòa Lạc Hi-tech Park was held in Hà Nội yesterday.
The event aimed to develop the scientific and technological potential of Hòa Lạc Hi-Tech Park, making it an attractive destination for high-tech investors.
Last year marked a turning point for Hòa Lạc Hi-Tech Park, moving toward attracting high-tech investment and developing scientific and technological potential. The park also aimed to become a city of science and technology, an ecological and intelligent urban area, an important factor in the process of industrialisation and modernisation.
In the first six months of 2017, Hòa Lạc Hi-Tech Park has seen positive signs, with many domestic and foreign firms investing in the park.
At the conference, Hòa Lạc Hi-Tech Park management board detailed investment and development in the park and also worked to create favourable conditions for enterprises to invest.
The management board has promulgated procedures for investing in the park and developed a plan for investment promotion. This move aims to ensure a simple, clear and transparent procedure for investment projects.
Phạm Đại Dương, deputy minister of Science and Technology, Chairman of Hòa Lạc Hi-tech Park management board, said that the investment promotion conference was the first event held after Prime Minister Nguyễn Xuân Phúc signed Decree No. 74 / NĐ-CP on June 20, 2017 regulating mechanisms and policies for Hòa Lạc Hi-Tech Park.
This policy mechanism will create a favourable investment climate while minimising investment costs and providing incentives for high technology investors.
At the event, Hòa Lạc Hi-Tech Park management board granted investment certificates for two projects from Korea's DT&C Company Limited and CVI Cosmetics Medicine Joint Stock Company, bringing the total number of investment projects to 80 with total registered capital of VNĐ61.3 trillion (US$2.7 billion).
This conference is in celebration of 25 years of diplomatic relations between Việt Nam and Korea.
The conference was organised by Hòa Lạc Hi-tech Park management board, in accordance with Embassy of Korea in Việt Nam and Garnet Investment and Consulting Company Limited
source: vietnamnews.vn
More Articles